We are so delighted to be the year's first TopBlogger at Blogchatter. January was enthusiastically completed at Blogchatter with loads of campaigns and registration going on besides the calendar is set with all the activities of the Blogchatter. If you are a Blogger then definitely you must be on this platform which started as a weekly Twitter chat is now one of the biggest platforms for the Blogging Community.
Who is Blogchatter's Top Blogger:
A blogger who spends quality time at the Blogchatter website is eligible to become TopBlogger. Simple Isn't it? And do you know the secret behind the 2 names of the TopBlogger the team receives, they are given by the system and its algorithms. One need reasons to be at a particular place for a longer time and here we share 7 reasons with you to be interactive at the Blogchatter that worked for us.
So, let's see how you can become the Top Blogger of the coming months.
1. Deep Dive into Blogchatter Posts:
If you are a keen learner then Blogchatter is a vast ocean where you can deep dive into the topics, learn many facts and ways to improve the blog. We all look for improvisation for our blog and Blogchatter serves it the right way.
2. Interact through Comments:
If you have a doubt about a particular blog post, then share your concern below. Blogchatter Team or other bloggers may solve it at the earliest.
If you liked the post and have few appreciating words then don't hesitate to drop your emotions through words in the comments and also you can share the same on social media so that fellow bloggers also gain knowledge.
3. Write for Cause:
Bloggers are determined to bring change through writing and we firmly believe in it.
#CauseAChatter campaign of Blogchatter has given many bloggers a reason to stick to a cause and spread awareness about a particular topic selected. There are set guidelines for the completion of this campaign and bloggers can check the same here. You can register for the campaign and pour in your thoughts on the topic selected. We have selected Environmental Talks as the topic of this quarter and will be sharing posts soon. We select the cause and read fellow blogger's thoughts on the same topic, which gives us an idea of the varied angles this topic can be explored.
#CauseAChatter Themes @Blogchatter
4. Update your Reading list in #TBRChallenge:
Reading books is our daily activity and we have registered for the #TBRChallenge, The Blogchatter Reading Challenge, which is simply superb. If you are an avid reader or just a new-born one you can register for it. If you are looking at why this challenge is the best, then check the below post that explains it quickly.
We keep on adding the books read in the 'Add Books' section and that interaction also counts, we update it once a week. And one more interesting element is the 'Readerboard' added by the team, where you can check your ranking on the board.
READER BOARD of #TBRCHALLENGE
5. Showcase your Blogpost in the Blogrolls:
Submit your blog posts in the Blogrolls and let the community shower the love on your post. We have added recent blogposts to the Blogrolls and also the blog posts that were written earlier too. So it's time to pick your work and add it to the Blogrolls from time to time. We have done it thrice a week.
6. Reading co-bloggers work:
For being the good writer one needs to be a good reader and listener too. So at Blogchatter, you get to read co-bloggers work through the Blogrolls, also on the home page, you can find featured posts and read them. And don't forget to click that small loop-like symbol, that says you are rolling that posts. We have read many posts by selecting the category of the bloggers.
7. Participate in Survey:
Blogchatter always looks for feedback from the community and for getting the feedback we have surveys on the Surveys section of the dashboard. Just fill it and voila you have added points to your TopBlogger award.
These are the top 7 ways one can do to get the Top Blogger badge. We are so happy to flaunt the same.
And you also get a specially curated hamper by the team for being Top Blogger at Blogchatter at a particular month. Here is the hamper look for you all to make you more motivated.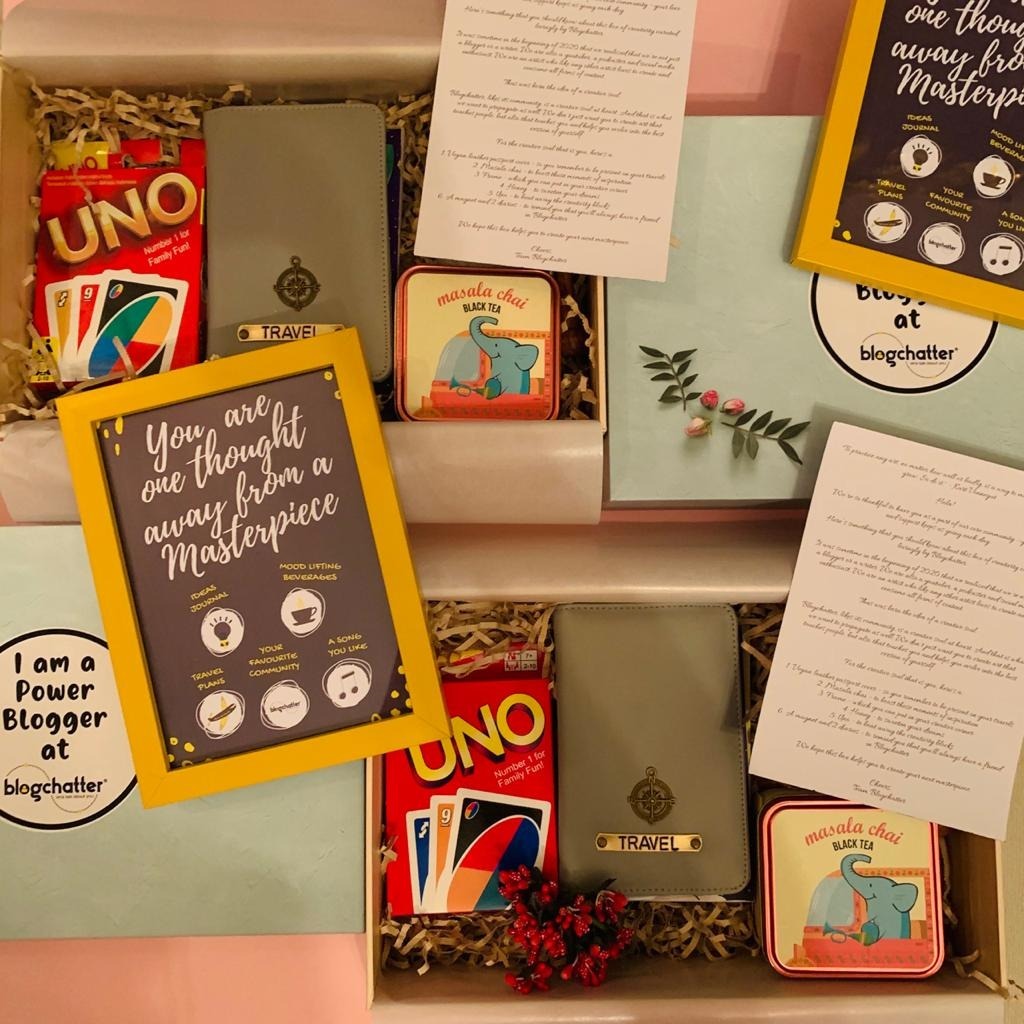 Image Src : Blogchatter
Also Blogchatter gives a sticker for every campaign you complete successfully and the dashboard also looks very vibrant besides it motivates one to earn more. Have a look at our 5 stickers earned at Blogchatter. By being part of various campaigns and events Blogging does not see a dull day plus it keeps you focus in your Blogging journey.
So, these were our tips and tricks that worked for us to achieve the Top Blogger award for the January month. By following these we are sure you can win too. Good luck to you and see you at Blogchatter, you can roll us at Blogchatter on this link, https://www.theblogchatter.com/user/MeenalSonal